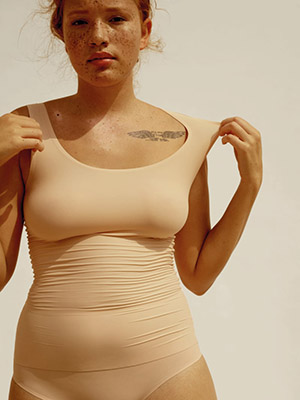 When it comes to lingerie and underwear, some people are neither connoisseurs nor enthusiasts. Lingerie to some has only one purpose and it is to provide comfort and shape to their bodies without pinching, hurting, squeezing or lifting any part of it unnecessarily. Laces, chiffons, push ups, modern day corsets, superfluous straps, bows or wires are just aren't wanted. Always trying to figure out what bra size they are is just tiresome and nor do they want to be worrying if their bum will fit the knickers on those 'in between' sizes days.
Introducing Chantelle Soft Stretch
There aren't a lot of options out there surprisingly, that cover off these basic and essential needs. Thankfully we at Mysmartypants can introduce you to the Chantelle Soft Stretch collection: the seamless, one size fits all, ultra comfortable and minimal line, which safe to say, will leave you wondering where it had been all your life! The answer is it takes time to innovate and Chantelle seem to have got it just right with Soft Stretch.
Outstanding softness against the skin is a signature of this collection of knickers, bralettes, camis and bodysuits, being crafted entirely from a featherweight stretch-jersey. Hence the name. Soft Stretch. With bonded seams and a smooth waistband, these underwear essentials are almost completely invisible under any outfit! Its no wonder that in 2018 that the Chantelle Soft Stretch collection won Innovation of the Year at the UK Lingerie Awards 2018 and is critically acclaimed by fashionistas and bloggers alike across the world.
Knickers A Plenty - Designed to complement the colours of many of the Chantelle bras, it means they can be mixed and matched, along with seasonal fashion colour choices. Soft Stretch provide effortless movement and comfort all day long overthrowing the restrictions women encounter with many underwear choices by adapting it to their personal shape.
This form-hugging undergarment comes in shapes and styles for every knicker preference: Boyshort, High Waist, High Waist +, Thong and a High Waist Thong.
Comfy Crops
The Soft Stretch Crop Top is wireless, lightweight and moisture-wicking. It's perfect for layering, extra coverage or as your new sleep and lounge go-to.
Bralette
The ultimate foundation piece! The Soft Stretch Padded V-Back Bralette adds ease to everyday with high performance elasticity. Padding gives more support and shaping than perhaps you'd imagine and perfect to wear on its own or layered for a lightweight, luxe look. The padded bralette comes in sizes XS/S, M/L, and XL/XXL.
Tank Top
The smooth tank top makes everyday easier and that little bit comfier. The lightweight cami style features a scoop-neck, quick drying jersey, and a beautifully relaxed fit. Again perfect for layering or a super comfy lounging item.
Adjustable Camisole
The Soft Stretch Adjustable Strap Camisole is another new addition to the award winning collection. The moisture-wicking fabric adapts to your body shape and follows the movements of the body like a second skin. The adjustable cami comes in sizes XS/S, M/L, and XL/XXL.
Body Suit
This French-designed Soft Stretch Bodysuit features fully adjustable straps and a popper gusset. Just like the rest of the collection the body adapts to your individual shape for ultimate all day comfort. Ideal as underwear as outerwear, that smoothing layer under a dress or with jeans.