Gok Wan is man that needs no introduction. He is the 'Fairy Gokmother', able to give virtually any woman a confidence boost like no one else.
So it was simply a dream come true for us here at Mysmartypants lingerie to be given the opportunity to showcase more than just the ability to sell bras but also to fit them alongside him during last years One Size Fit's All tour.
We launched Mysmartypants.co.uk some 9 and a bit years ago, whilst I (Joanne Jaques) was on maternity leave and I continued to run the business for 5 years whilst still holding down full time employment elsewhere. 3 years ago the decision was taken to focus purely on the business.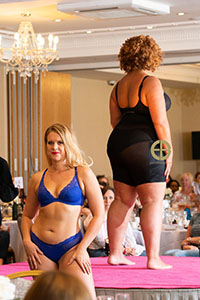 However, if you had told me a year ago that I would be preparing to style catwalk models with lingerie for television makeover maestro Gok Wan, I wouldn't have believed you! The fashion star's last roadshow, Gok Wan One Size Fits All, covered much of the United Kingdom and the event is described as a masterclass in fashion, style and insider secrets.
A call came out of the blue from Gok's events team after they found us on social media and then checked us out online. Gok and his team had been scouring the country for small independent retailers who are experts in their field to showcase. They just happened to come across us and said they thought we would be a perfect fit.
Initially we were asked to get involved at an event in Hertfordshire (at Shendish Manor Hotel). They normally contacted independent bricks and mortar boutiques who specialise in a personal fitting service but had noticed that unlike many other online lingerie retailers Mysmartypants uniquely could provide that same service as we also offer private fittings to those relatively local to our base through www.brafitter.co.uk, not to mention being able to offer fitting advice to those customers that contact us.
The idea was that I should fit and style four models for a catwalk show under the category "Nip & Tuck – No Surgery Required" and "The Perfect Fit – A Bra Masterclass" using models sizes 8 to 18.
The choice was completely in our hands and I went to the hotel to meet Sophie (Gok's styling partner) and Gok at a pre-event meeting to talk through ideas. So of course I showed a variety items from our amazing suppliers Chantelle, Passionata and Aubade, featuring shapewear, everyday bras and something that little bit sexy.
I have to admit that the idea of meeting Gok was on one hand really exciting and the other terrifying!
On the day of the event, and putting my obvious nerves aside Gok and I really hit it off and a suggestion was thrown in at the last minute that perhaps I could also do a bra fitting for four lucky members of the audience. A bra fitting lesson en mass and that each of the four ladies chosen would each get to keep their newly fitted bra. Queue a bit of shock, a few frantic telephone calls and several suitcases of bras in all shapes, sizes and colours from the Mysmartypants extensive stocks were transported double quick from our offices to me at the hotel.
It's a well known fact that very few women are wearing the correct sized bra (85% incorrectly is a figure commonly used), so it was important to teach everyone what a correctly fitted bra should look like and working with Gok and his team enabled me to do that in way that I could have only dreamed of!
As the show started it was clear that he is adored by the guests and the team he works with alike. The crowd roar with laughter at his frequent naughty/filthy jokes, liberal use of expletives and his cheeky innuendo. It's going really well and Gok begins selecting members of the audience targeting those who had not had a fitting for a long time, or ever in the case of one lady to be "made-over" backstage. I'm now watching carefully as each lady is selected gets dragged up on stage to be asked when she was last fitted and then back comes down the steps to be taken into a room with me for the bra makeover
I was given just 30 mins to perform Mysmartypants magic on the four women, somewhat swifter than a usual fitting takes for just one person normally. Amazing how adrenalin helps! We get called back onstage with Gok for their big reveal. They all look fabulous. All but one were wearing the wrong size at the start and admit that they felt so much better and that their clothes felt better as a result.
The crowds love it, the energy of the team backstage is awesome. It's all incredibly fast paced back there, and boom, it's all over. Phew!
It all went so welI on the day luckily. Clearly I and the Mysmartypants team impressed Gok so much with our enthusiasm and ability that we received a call just a day later asking us to come along to another date on the tour in Stoke on Trent.
A fortnight later I was in Stoke on Trent and with no Mysmartypants team nearby. A different selection of underwear for four new catwalk models in hand. Due to the distance from our home store we didn't take stock to fit members of the audience and apart front the early morning model fitting we were treated as personal guests of the One Size Fits All team. A little more relaxing and time to take in Gok's energy and enthusiasm.
The Bra masterclass with Gok is about to begin and Gok loudly says "Joanne where are you?", I stand up nervously, "There she is" and everyone's head turns my way. "Joanne from Mysmartypants - She literally knows more about boobs than me and that's saying something. Shes incredible - go see her".
I left that day feeling just a bit pleased with myself and very proud of the Mysmartypants business.