No 1 Bra Myth De-Coded
Let me get this one thing off my chest – no pun intended. A bra cup size means nothing and I mean absolutely nothing without a band size to define it. Bras sharing the same bra cup letter but on different bands DO NOT have the same cups sewn on them. So contrary to popular belief a bigger cup size does not always mean bigger breasts.
I'm telling this to you now to help you save time and money with your bra purchasing. We see a lot of customers purchasing online with us and will buy the same bra in several sizes to try at home and then return those that don't fit back. Yep, that is totally fine, but do you find yourself sending everything back because you have bought a 32DD, a 34DD and a 36DD when you usually buy a 34DD? You may have selected those sizes thinking well the 34 might be a bit loose or tight but not realised that these are all fundamentally very different bra sizes for the 32DD and the 36DD.
A cup size is measured by the difference between your under bust (your band size) and your over bust – measured around the fullest part of your breasts (generally over the nipples). Most of us assume, for example, if you wear a 34DD and finds that the band of a particular bra is too tight, that we should go up to a 36DD. This isn't the way to do it!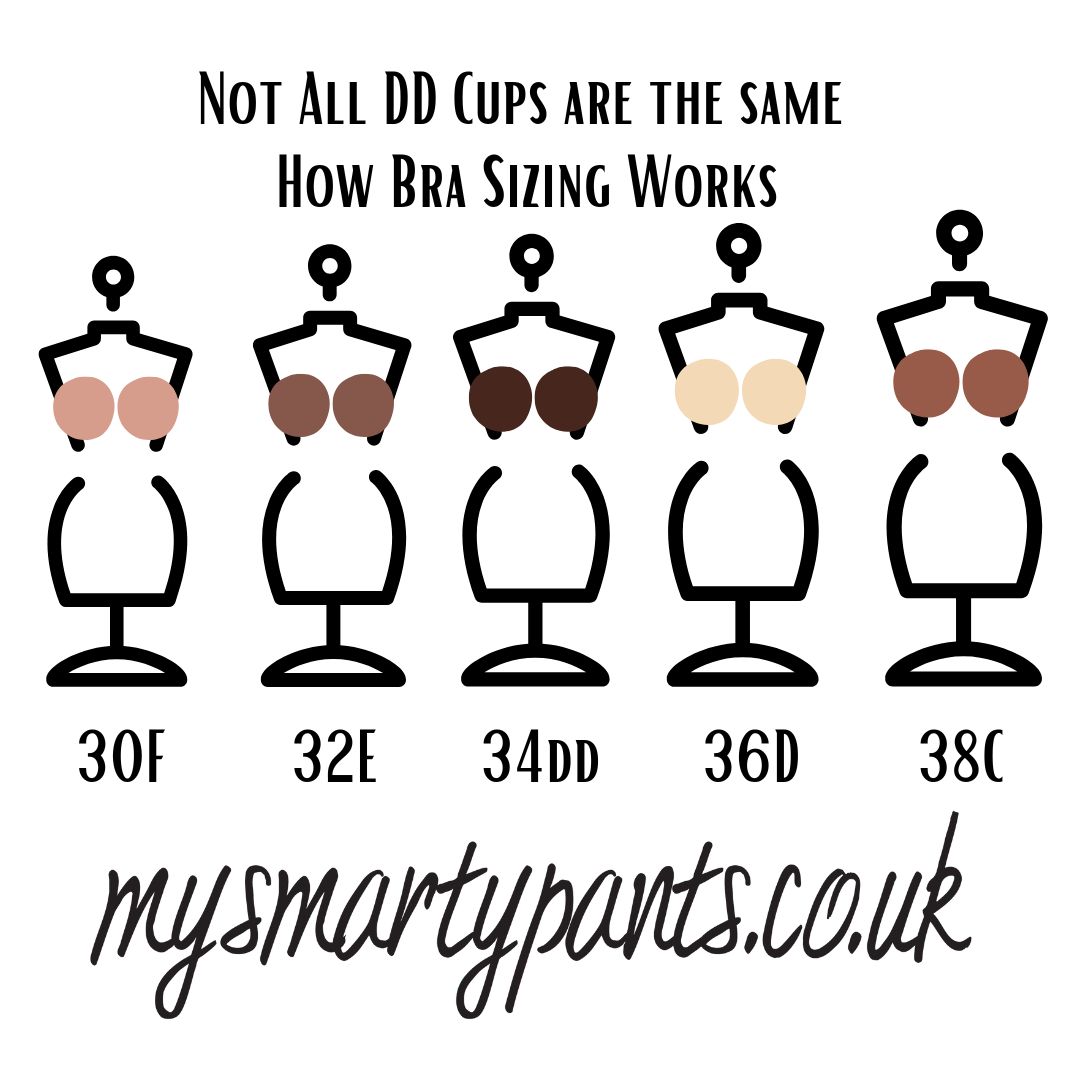 The woman who wears a 34DD has less breast tissue than the woman who wears a 36DD. Instead of the 34DD she should choose a 36D in order to achieve a more comfortable back band with the same size cup size because cup volume increases as band size increases. This is due to the inverse relationship between band and cup. As the band size goes up the associated bra cup size letter goes down. The tightness also might not be due to the band but may be because you need a bigger cup so in this instance you might be better off trying a 34E.
I will elaborate further on this below. But first, let's look at a few examples of DD cups across varying band sizes! The DD cup is representative of a 4-inch difference between the bra band size and bust measurement.
As evidenced by the chart above DD cups are not equivalent across the board and in fact are completely dependent on band size. So, the DD cups on a 34DD are bigger than the DD cups on a 32DD which are both bigger than the DD cups on a 30DD.
Basically, a DD is not a DD is not a DD!
This is one of the reasons why we as bra fitters find so many people wearing bras with Band that are too big and cups that are too small – this result in that boob fat look/muffin top. For too long we have been led to believe that a D is big, DD's are huge and E cups and above are either Fake or Enormous! Well, truth be told nothing could be further from the truth.
A little lingerie industry secret shared ….
Cup size represents the volume of your bosom and is completely relative to your band size. For example, a 36D holds 710cc of breast tissue - the same as a 34DD, 32E and 30F. A 34B, on the other hand, holds 390cc of breast tissue – the same as a 32C, 30D, and 28DD. This band-to-bust ratio, also known as Sister Sizing, represents bras that have the same cup volume. Assuming you have the right cup size, an increase or decrease in band size to achieve a slightly looser or snugger fit requires an opposite move in cup size. It's counterintuitive, I know, but it's the way bra sizing works.
A little heads up on sister sizing!
I would not recommend choosing a bra more than one Sister Size away from your measured bra size. While, for example, 38B, 36C, 34D, 32DD, and 30E all hold the same volume, the bras are designed for very different body shapes. As you go up in band size, for example, theentire bra scalesupward with everything from the distance between the cups to the placement of the straps to the length of the wings increasing in proportion.