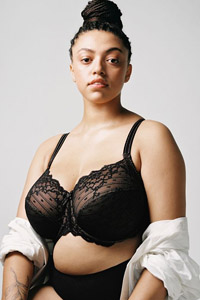 According to Who What Wear, the Celebrity Style and Fashion website, the Chantelle Rive Gauche Three Part Bra is one of the best that money can buy and Rive Gauche has also been declared as one of the USA's best selling bras of all time. Whilst perhaps not as well known in the UK its still a Chantelle bra that's extremely popular with our customers and those who simply love Chantelle lingerie.
Expertly designed for those with a fuller bust or those would like a full cup coverage, the scalloped lace style from offers 'ultimate support and shaping, without adding size'. It's classic cut has been supporting boobs for over a decade and it's popularity continues to grow with existing and new consumers.
Reviews across the Internet are very positive....
"the best bra I have ever owned"

"This is the best bra you will ever own. I used to live and die by padded bras for the lift, support, and balance (I have some asymmetry), but this bra really does the job and actually works overtime"

"So comfortable' and 'the perfect fit"

"This is the best bra. It doesn't squish my breasts, it's pretty and has great support"

"I can't help myself - I just keep buying this bra"
At Mysmartypants we know why this is such a top seller. The material is high quality, silky-smooth and breathable, and the straps are on the thicker side, which provides extra comfort, a plus in our book. Usually, with unlined bras, there's a chance it won't look as smooth as if it had padding, but that's definitely not the case here since it's so well-designed. Comfortable, pretty, gives great shape without feeling like you're in a straight-jacket. This is a fabulous go-to Chantelle bra for everyday wear.
The only con as far as we can see it now, is that Chantelle only currently offers the Rive Gauche in limited colours in the UK with is black or cappuccino.
Shop now for the Chantelle Rive Gauche Full Cup Bra - £59