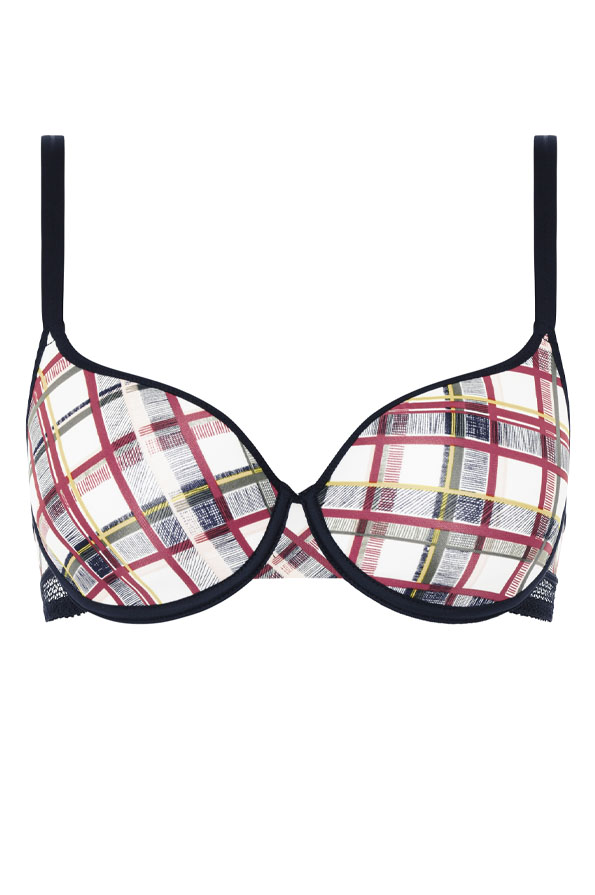 Mysmartypants are pleased to introduce you to the Passionata Dream Today, a t shirt bra in a fun square print that has just a hint of 80's retro about it that's so on trend right now. An everyday bra style and the print is so versatile to go with no end of outfit choices but with that print, it almost seems a shame to cover it up. There's a great size range too, as you'd expect with a t-shirt bra, it's an essential best bra choice and available in back sizes 30-36 and up to an E cup.
The cups are designed to create a natural rounded shape, recentring the bust for optimal support and outstanding all day comfort.
Passionata by Chantelle is a firm favourite with our customers, you could say a more youthful brand than its older sister Chantelle but there's no faulting the quality and support you get with a Passionata bra. Dream Today is playful take on a t shirt bra with the cups covered in a soft opaque textured knit offering virtual invisibility under tighter tops, just what you expect from a good t shirt bra! The cups are designed to create a natural rounded shape, recentring the bust for optimal support and outstanding all day comfort.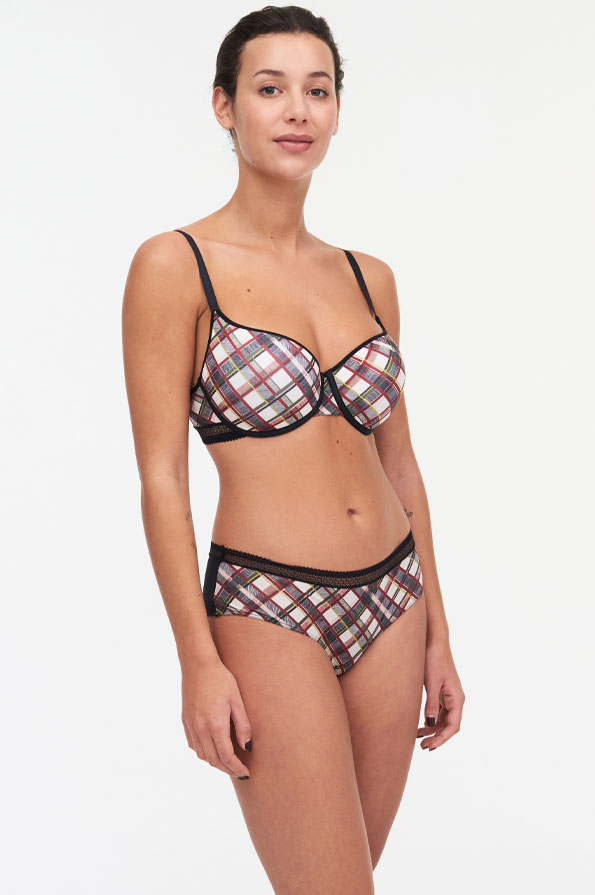 French lingerie heritage
Detailing doesn't just stop at the print, there's a feminine touch with Valencinnes lace finishes to the soft band and also on the co-ordinating shorty knicker. Just in case you were wondering, Valenciennes lace is a type of bobbin lace which originated in Valenciennes, in Northern France and was at the peak of popularity from about 1705 to 1780 we're reliably informed by Chantelle's branding team. Production has since moved to Belgium and the Chantelle group to this day likes to reflect back on its strong French lingerie heritage whilst adding more modern twist as fabric technology evolves.
What is a t-shirt bra?
A style we take for granted and make the assumption, perhaps too readily, that everyone knows exactly what a t shirt bra is. We're supposed to be the experts after all, so here's a quick reminder. T shirt bras are a fail-proof choice for wearing underneath tightly fitted clothing or as the name suggests t shirts, thanks to their smooth and seamless design. Its versatility and comfort make it a wardrobe must-have suiting a wide range of bust sizes including larger sizes.
T-shirt bras are not just to wear underneath form-fitting t-shirts, but also for any time you are looking for a smooth appearance. If there is one bra, we at Mysmartypants think everyone should have it's a t shirt bra. It's the most common style that you wear often because of its minimalist design and focus on comfort. Don't forget there's also variations on t shirt bras, so you might find there's more lace on some or even some featuring memory foam or spacer fabrics. (Take a look at our spacer bra blog for more info).
Good for daily use? A t shirt bra is great!
We've seen the question come up on the internet of "Is a t-shirt bra is best for daily use?" We'd go one step further and say its great for daily use and Passionata have managed to add prettiness and fun to this one without detracting from all the features you expect like support, comfort and wearability.
Also in the Passionata Dream Today lingerie range
Matching co-ordinates are available including the shorty knicker, the back of which is clean cut microfibre offering virtually perfect invisibility and superb comfort. In the case of this gorgeous square print, it complements of a number of shades featured in the Chantelle and Passionata collections including black, white, dusky pink and fig meaning that you can also coordinate with knickers available in the award-winning Chantelle SoftStretch collection.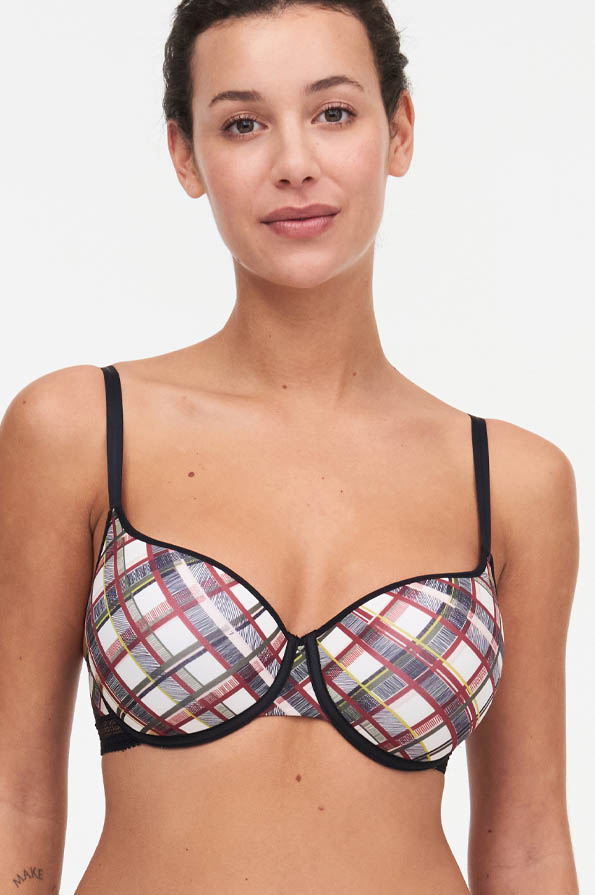 PASSIONATA DREAM TODAY T SHIRT BRA
A beautiful everyday t shirt bra with a modern square print design to the textured knit. Smooth t-shirt bra cups support and shape naturally, recentring the bust and creating a beautiful neck line. Smooth flat finishes help to create the illusion of virtual invisibility under clothing, however, with this glorious square print it seems a shame to hide the design! To the back the Passionata Dream Today bra features Valenciennes lace finishes for that additional feminine touch and is finished with a traditional hook and eye brasserie back and fully adjustable soft and comfortable straps.
DREAM TODAY T SHIRT BRA FEATURES:
T shirt bra style moulded cups
Soft outer opaque knit with stylish square print
Optimal support for the bust
Underwired shape recentres the bust
Smooth flat finishes for virtual invisibility under clothing
Pretty lace to the back
Hook and eye closure to the back
Fully adjustable straps
Knit 79% NYLON 21% ELASTANE lace 85% NYLON 15% ELASTANE knit cup 100% POLYESTER tulle 84% NYLON 16% ELASTANE
Also due in store soon is the Dream Today t shirt bra in black and dusky pink which will be available in back sizes 30 - 40 and A cup through to an E cup.